Presentation Boot & Beret Figure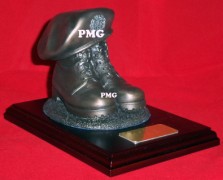 £50.00
Cold Cast Bronze resin Regimental Boot and Beret figure (RAF Depicted) on a Mahogany finish wooden plinth with engraved Trophy Plaque(50mm x 25mm).

Overall size approx. H 120mm L 175mm W 125mm
Royal Scots Dragoon Guards Boot & Beret
£35.74
Bronze effect Regimental Boots and Beret with regimental Insignia. Royal Scots Dragoon Guards Regiment depicted many others available Contact us for details.
Princess of Wales Royal Regiment Military Plaque
£20.41
Mahogany finish plaque (size approx. 10cm x 15cm) encompassing a pewter Princess of Wales Royal Regiment Badge and pewter SA80 Bayonet.

Optional Engraved Trophy Plaque (50mm x 25mm) may be added. Check engraved Trophy Plaque Box and add text if required.
RM SBS(Old style) Lapel Pin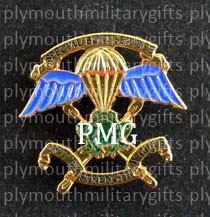 £4.03
A unique Royal Marines SBS (Old Style) design Pin. An ideal gift for serving and veteran personnel. Matching cuff links and tie bars also available.
RN Warrant Officer Tie Bar
£10.16
A sturdy Warrant Officer design Tie bar supplied in a smart acetate box, matching Cufflinks and Lapel Pins also available.
HMS Triumph Round Magnet
£2.04
A unique Ships Crest design Fridge Magnet. Over 1500 different crest magnets available. Matching Key rings, Bottle openers, Mousemats and Coasters also available. Please contact us for your requirements.