News

Great British Bear Company
The latest additions to our product listing, we welcome The Great British Bear Company.

They have created an affordable range of hand made, plush teddy bears each dressed in beautifully detailed iconic British costumes. Great British Teddy Bears are a new kind of collectable teddy: made to be played with they are washable, huggable and safe. Soft enough to cuddle and strong enough to last a lifetime. Each fully jointed Teddy Bear and all of their accessories have been manufactured with care and tested to exceed international toy safety regulations.

These unique products are now available.


15th June 2011 - New Website Launched
We are pleased to announce the launch of the new, improved Plymouth Military Gifts website. Offering our full range of regimental, military, navy and emergency services gifts, it is easier to navigate and easier on the eye than our our previous website.

If you find any errors or omissions or would like something not shown on this website please contact us.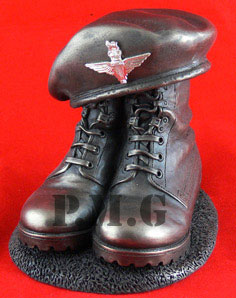 New Arrivals
Now in stock - Royal Navy rank Lapel Pins!

- Junior Ratings
- Petty Officer
- Chief Petty Officer
- Warrant officer
- Officer

All available as matching Tie bars and Cufflinks.

J/R, PO, CPO and Officer also available in Boot & Beret figurines.


Presentation Boot & Beret Figure

£50.00

Cold Cast Bronze resin Regimental Boot and Beret figure (RAF Depicted) on a Mahogany finish wooden plinth with engraved Trophy Plaque(50mm x 25mm).

Overall size approx. H 120mm L 175mm W 125mm

Irish Guards Military Plaque

£20.41

Mahogany finish plaque (size approx. 10cm x 15cm) encompassing a pewter Irish Guards Regiment Badge and pewter SA80 Bayonet.

Optional Engraved Trophy Plaque (50mm x 25mm) may be added. Check engraved Trophy Plaque Box and add text if required.

RN Chief Petty Officer Lapel Pin

£4.03

A unique Royal Navy Chief Petty Officer (CPO) Cap Badge design Pin. An ideal gift for serving and veteran personnel. Matching cuff links and tie bars also available.

RN Petty Officer Lapel Pin

£4.03

A unique Royal Navy Petty Officer (PO) Cap Badge design Pin. An ideal gift for serving and veteran personnel. Matching cuff links and tie bars also available.

Royal Engineers SA80 Military Plaque

£20.41

Mahogany finish plaque (size approx. 10cm x 15cm) encompassing a pewter Royal Engineers Regimental Cap Badge and pewter SA80.

Optional Engraved Trophy Plaque (50mm x 25mm) may be added. Check engraved Trophy Plaque Box and add text if required.





Army Bear Khaki Beret

£29.95

This cute little soldier is sure to make any teddy enthusiast smile. Our Great British Army Bear wears a desert camouflage shirt with a union jack shoulder patch. On his khaki beret he proudly displays his die-cast GB regimental badge. Each brave soldier wears collectors edition dog tags, we have embossed one tag is with commemorative text and left the 2nd blank so that it can be engraved. Each Dog tag is a standard UK size and engraving can be done at your local key cutting shop. A great gift for the loved ones of our brave soldiers.

Desert camouflage shirt with Union Jack shoulder patch
Khaki Beret
Beret with die-cast GB logo
Collectors edition dog tag
Engravable dog tag